Transportation in Shenzhen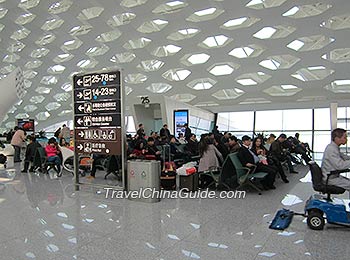 Bao'an Airport
Shenzhen Bao'an Airport (SZX) is around 20 miles (32 kilometers) from downtown area. At present, it operates more than 150 domestic and 21 international air routes, connecting Shenzhen and other cities both at home and abroad, such as Beijing, Shanghai, Xi'an, Macau, Taipei, Singapore, Kuala Lumpur and Tokyo. Transportation to/from downtown, Guangdong Province, Hong Kong and Macau is quite convenient from the airport:
For Further Information please visit the website of Shenzhen Baoan Airport:http://www.szairport.com/
The city is located at the crossing of Beijing-Guangzhou Railway Line and Beijing-Kowloon Railway Line. Guangzhou-Kowloon Railway Line and Xiamen-Shenzhen Railway Line also pass the city. As one of the most important transportation hubs in south China, Shenzhen efficiently connects mainland China and Hong Kong. Most high-speed trains depart from North Railway Station and get to Xiamen, Hangzhou, Huangshan, Shanghai, Nanjing, Chongqing, Xi'an and Wuhan.
There are over 40 passenger long-distance bus stations in the urban and suburban areas. Among them, Luohu Bus Station, Bao'an Bus Station, Yinhu Bus Station, Futian Bus Station, Huanggang Bus Station and Airport Bus Station are the popular ones. Passengers can arrive in a city within Guangdong Province such as Guangzhou, Zhuhai, Shantou and Zhanjiang, or trans-provincial city including Nanning, Guilin, Fuzhou, Putian and Quanzhou.
Nowadays, ferries are available at Shekou Port (China Merchant Shekou Ferry Terminal) and Fuyong Port of Bao'an Airport. Shekou Port operates ferry lines to Skypier of Hong Kong International Airport (HKIA), Hong Kong Macau Ferry Terminal, Zhuhai Jiuzhou Port, Zhuhai Wailingding Island Ferry Terminal, Macau Outer Harbour Ferry Terminal and Taipa Temporary Ferry Terminal. Fuyong Port is just 3.3 kilometers (2 miles) away from Bao'an International Airport. Passengers can take closed ferry route to/from airport to Hong Kong International Airport and Macau by showing intraday air tickets. Also, Shenshen has an important international container terminal, Yantian Port, operating about 87 ship routes to/from countries in North America, Asia, Europe, South America, Australia and Mediterranean.
Eight metro lines are operating in the city so that the accesses to the major distribution centers like Luohu Railway Station, Window of the World, Luohu Port and Shekou Port are quite easy.
Operating Subway Lines:


Line 1 (Luobao Line)

Line 2 (Shekou Line)

Line 3 (Longgang Line)

Line 4 (Longhua Line)


Line 5 (Huanzhong Line)

Line 7 (Xili Line)

Line 9 (Meilin Line)

Line 11 (Airport Line)
Lines to be Opened:


Line 6 (Guangming Line)


Line 8 (Yantian Line)


Line 10 (Bantian Line)


Line 20 (Fuyong Line)
There are over 900 bus lines running in this city presently. Regular bus lines, Express Lines, Intercity Lines, Night Lines, Peak Hour Lines and Holiday Bus Lines are the main categories. Most routes in downtown area cost CNY 1 for ordinary bus and CNY 2 for air-conditioned bus. Their operating hours are roughly from 07:00 to 23:00 in weekdays.
Currently, more than 16,000 taxis run in the city. They are mainly in four colors and serve designated areas: red and yellow cabs run in urban and suburb areas including Luohu, Futian, Nanshan and Yantian Districts; green cabs can only be found in Bao'an and Longgang Districts; blue cabs, namely electric ones, serve the same areas as the red ones. In the day time, the fare is CNY 6-10 for the first 1.2 miles (2 kilometers) and then CNY 2.4 for each extra 0.6 mile (1 kilometer). During the night (23:00-06:00 the next day), passengers need to pay extra 30% as night allowance.